GLORY HAUS CANVASES
This canvas collection is an array of lovely, thoughtful and inspirational pieces of art to display in your home and give to loved ones.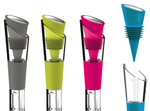 HOSTING & WINE ACCESSORIES BY TRUE™
Millie's is pleased to carry new wine and hosting accessories from True Fabrications, including their "Chill" cooling pouring spout.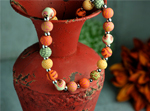 JILZARA CLAY JEWELRY
Jilzara is a premium jewelry line specializing in handmade polymer clay beads. It's extremely durable and showcases the vibrant colors beautifully.
MILLIE'S IS YOUR DESTINATION FOR GIFTS, COLLECTIBLES, CHRISTMAS AND DEPARTMENT 56®

At family-owned Millie's Hallmark, we are known for our extensive selection of fine gifts, collectibles, greeting cards, gift wrap, and spectacular Christmas items--including the popular Department 56® porcelain villages. We strive to provide our customers with the highest standard of service available, as well as the finest product selection in the Phoenix, Arizona area. We pride ourselves on being the oldest retail establishment in Ahwatukee, Arizona, the community we have served since 1979. We have helped generations of shoppers find the perfect gift, and we look forward to serving new generations both in our store and online. We are a premiere Department 56 destination and home to a Village you simply must see: over 120 linear feet of D56 houses and accessories are always on display. Shop us often; we get new products every day!